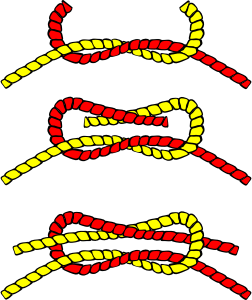 We will have a den meeting on
Monday
evening. We will be indoors but will continue to work with the boys on their
Outdoorsman
badges. This activity will focus mainly on the upcoming Webelos Weekend (see related email) and ropes/knots.
I'll need some adults to help the boys while they practice preparing ropes for use by whipping and fusing and also the basic knots they will use outdoors for building shelters (taut-line hitch), tying off to posts/rails (clove hitch), etc.
When:
Monday,
October 6
, 7:00p
Where:
Community Room (2nd Floor) at Newtown Grant Recreation Center (NGRC)
Wear:
Class-A Uniforms
Bring:
Webelos Handbook

Optional: Registration Check for $120 payable to "Pack 99" (Due by

October 25

)

Optional: Pocket-knife (Only for boys who have earned whittlin' chip)
Advancement:

Outdoorsman (partial)
Arrow of Light (partial)

Thanks. Let me know if you have any questions or concerns and I'll see you all on
Monday
.
James
P.S. I'll also have class-B t-shirts for the boys whose registration fees are renewed.