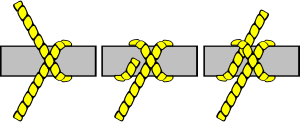 We will have a den meeting on
Monday
evening. We will be indoors working on the boys' "centerpiece" for their banquet table. The boys will be lashing together a ceremonial ladder to commemorate their Cub Scout years.
We'll need some adults to help the boys at a few different stations where they will fuse their rope, practice a round lashing, practice a square lashing, and lash their rung on the ladder.
Also, this will be the last den meeting before the banquet where we can credit completed activities. If the boys bring me completed activities on Monday, we can get their pins/patches to them by Saturday at the banquet.
Thanks.
James
When:
Monday, February 23, 7:00p
Where:
Community Room (2nd Floor) at Newtown Grant Recreation Center (NGRC)
Wear:
Class-A Uniforms
At-Home Preparation:
Practice clove hitch (see Outdoorsman in Webelos handbook)

Bring:
Webelos Handbook
Completed activities for credit

Optional: Pocket-knife (Only for boys who have earned whittlin' chip)
$10 for Raffle basket to Mr. Petito

Advancement:

Outdoorsman (partial)
Arrow of Light (partial)